Introducing a product in a new market brings a number of challenges. These can include understanding market opportunities; developing a cost-effective regulatory strategy that is compliant with individual country guidelines; ensuring a steady supply of high-quality products; garnering support from key stakeholders who can help to facilitate the integration of the product; making connections with potential distributors; and understanding the needs and preferences of the girls and women who may use the product. We can help your team to simplify the introduction process and open doors.
---
Market Access Accelerator Process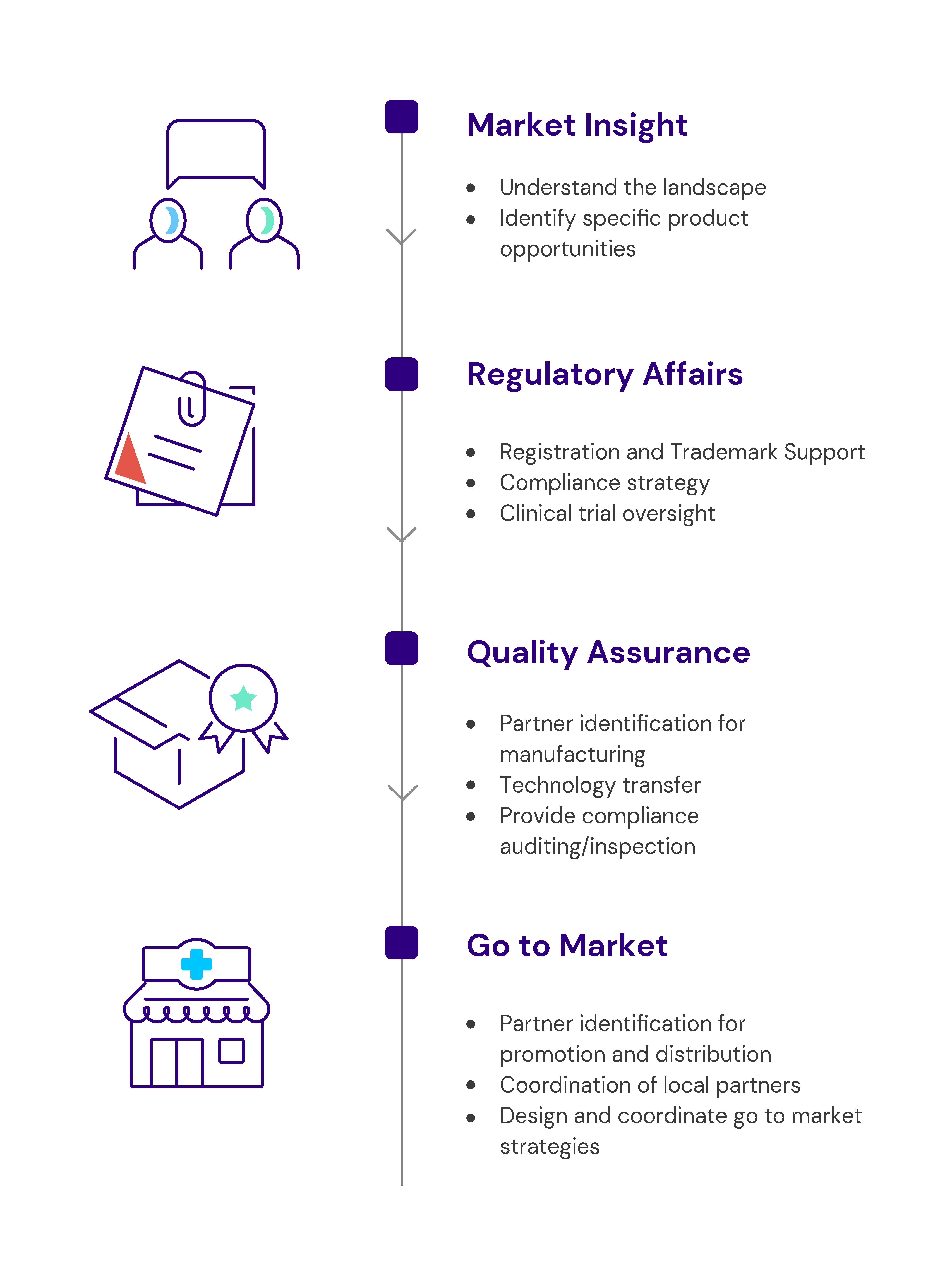 Catalyst Global offers the following services, as a whole or in part, as needed to help you meet your goals.
Market Insights
We map the landscape for critical information:
The market structure, channels and key players
Requirements to register a product for use in commercial, public, and other channels
Private and universal health insurance coverage
Existing initiatives to create awareness of relevant health area
We conduct assessments to find key insights:
Wants, needs and perspectives of girls and women
Gaps that the existing market is not addressing
Specific products with potential for product-market fit
---
Regulatory Affairs
Recommend regulatory compliance strategy
Compile, review and publish regulatory dossiers for local market authorizations and through regional harmonization mechanisms
Support products undergoing the WHO prequalification process
Liaise with National Regulatory Agencies and key local stakeholders to garner support for new product registration and introduction
Provide scientific advice and clinical trial oversight to products in this stage of development
Support regulatory advertising and promotion
Support filing for trademark
Support for product (re-)classification:
– Integration into Ministry of Health protocols, e.g. list of essential drugs
– Over-the-counter status or new, approved uses
---
Quality Assurance
Provide compliance auditing/inspection (internal and external)
Support the development of quality management systems
Assist manufacturers to improve quality assurance and quality control
Oversee quality control testing and batch release
Support stability programs
Support technology transfer
---
Go to Market
Design, convene and coordinate go-to-market strategies
Identify the best-suited distribution and promotion partners for each channel
Provide technical support to promote products to health workers and girls and women
Assess the potential for and advocate to integrate products into national health care systems
For more information, please contact Shannon Bledsoe: [email protected]